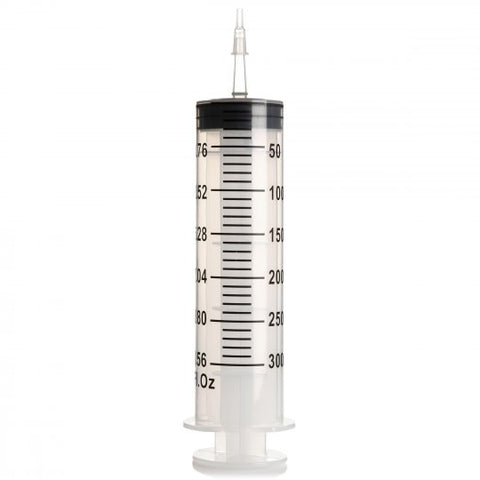 XR Brands
Enema Syringe 300ML
Feel confident and prepared for a hot night exploring your booty! This enema syringe holds up to 300ml of liquid so you can fully clean out your backdoor and feel fresh before you play! The polypropylene syringe can easily be filled with any liquid of your choosing and has clear markings so you know exactly what amount of liquid you're taking in. With a tapered tip, insertion is easy. You can also use the silicone tube to help suck up any liquid from another source and keep cross-contaminants at a minimum. Perfect for medical play scenes, you or your partner can play doctor and enjoy this sexy way of conducting an at-home examination! Clean the tube and syringe after use by washing with warm water and mild soap.
This large syringe filled ready to squirt into your rear, the full feeling of getting your backdoor filled with 300ml, and the fresh feeling of releasing it all after you've held it in! This sexy syringe is great for medical roleplay or for a thorough and precise enema experience! Want to know exactly how much of a liquid is going inside your porous colon? Measure it out easily and then slip the tip inside and squirt it out! Reuse again and again solo or with a partner!
Measurements
: Syringe: 10 inches length, 2.1 inches width, holds up to 300ml of liquid. Tube: 16.25 inches length, 0.4 inches width.
Materials
: Polypropylene, silicone (tube)