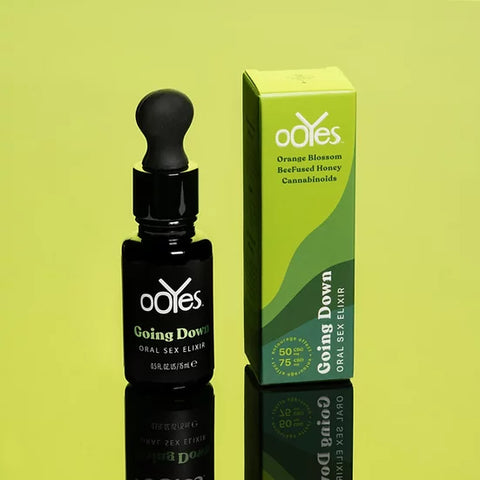 ooyes
Going Down | oOyes
Going Down Oral Sex Elixir
Contains: 75mg CBD + 50mg CBG + BeeFused Honey + Terpenes
Travel Size: .5 fl oz / 15ml UV glass bottle dropper
Lay back, relax, and be transported as your partner drenches you in this delicious oral sex elixir. This combination of sunflower oil, BeeFused honey, and orange blossom terpenes with a little extra kick of CBD and CBG will have your partner always going down for more.
Contains Full Spectrum CBD, CBG and Cannabinoid-Rich BeeFused Honey
Contains premium coconut-based MCT 
Oral-Friendly, Gluten Free and Safe to Ingest
Free of Sugar, Glycerin, Glycols, Parabens and Silicones
Independently Lab Tested and Never Tested on Animals
UV Glass Bottle with Dropper Protects Cannabinoids
Caution: USE ONLY WITH OIL-SAFE MATERIALS. NOT FOR USE with LATEX or POLY-ISOPRENE. No Condoms, Diaphragms or Toys.
MCT Oil, Lecithin, Rosemary Extract, Cannabidiol Hemp Extract (CBD), Cannabigerol (CBG), BeeFused Honey, Orange Blossom Flavor