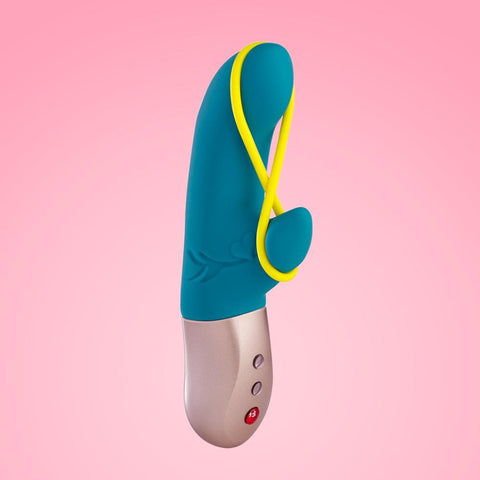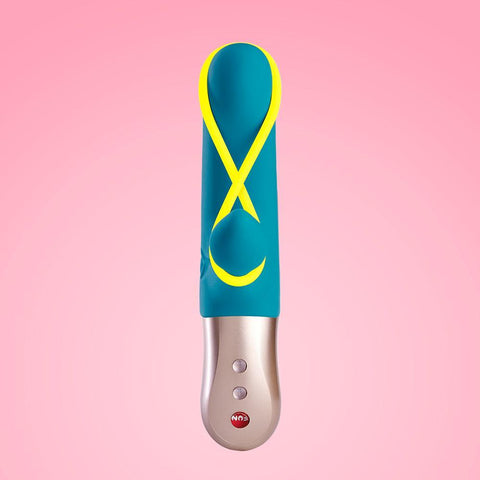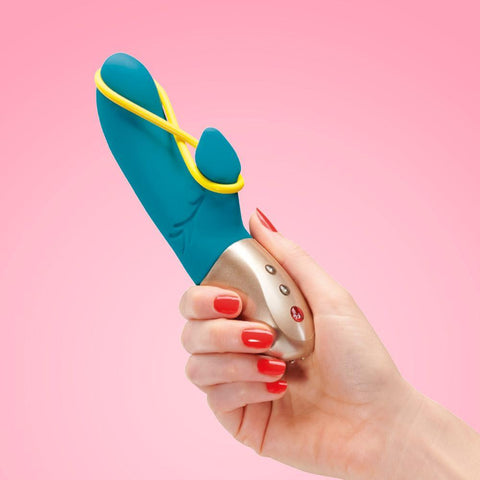 ElDorado
Amorino | Fun Factory
A DIFFERENT KIND OF RABBIT VIBRATOR
What if we told you that you were only using a fraction of your clitoris? Under the skin, your clit extends a few centimetres into your body, and its "legs" wrap around your labia. The AMORINO is a dual vibrator for clitoral stimulation of a new kind and the first vibrator designed to let you hit all of it at once.
WHAT MAKES THE AMORINO SPECIAL?
Let us break it down for you: the AMORINO is a dual vibrator, shaped so that you can set the shorter extension against your clit and rock the curved shaft against your G-spot. As if that weren't enough, its silicone band wraps around your labia, bringing vibration to the often-neglected clitoral legs.
WHY IS THE BAND REMOVABLE?
One fun thing you can do with it is to give it a twist or two and put it back on the vibrator, so that you get focused vibration in the middle of the band. It's great for hyper-focusing on the clit or for nipple play. Try twisting it different ways for different sensations! If you feel like deeper penetration, it's also best to take the band off first.

Pro tip: Some fans enjoy using the band as a cock ring!
CAN I USE THE AMORINO RABBIT VIBRATOR FOR ANAL PLAY?
Sure thing. Just take the band off first! The AMORINO's extension doesn't just make it anal safe; it also means that you can enjoy vibration against the nerve-rich perineum. Plus, its smooth, curved shaft makes it ideal for prostate play.
Six vibration programs provide for diverse pleasures, because the vibration intensities are infinitely adjustable via touch controls. Key lock for travel. Waterproof - submersible.
All FUN FACTORY toys are invented, developed, designed AND produced in Bremen, Germany. 2 year warranty.