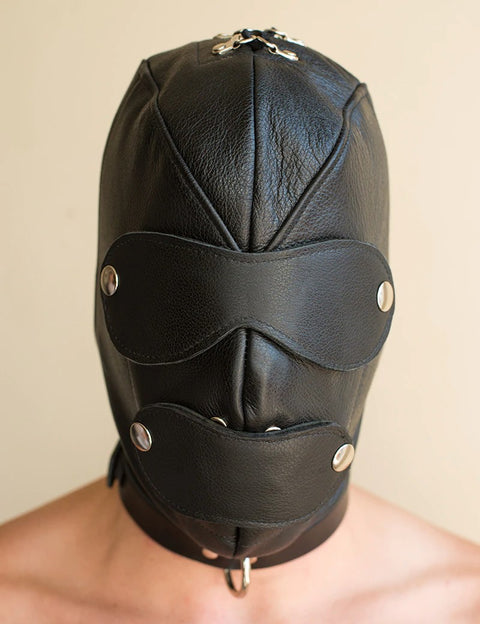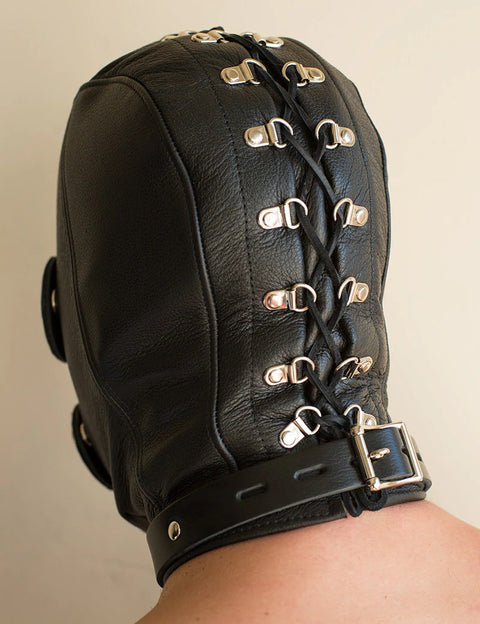 The Stockroom
Leather Hood with Blindfold and Gag | The Stockroom
This high-end Premium Leather Hood with Gag & Blindfold is a Stockroom original design that we're quite proud of. It is well-made from quality black leather with careful attention to shaping for an excellent fit.
The hood can be used with or without the blindfold and gag, which attach using snaps. The mouthpiece for the gag is about 2½" (6cm) long and is also made of leather. Many people like the idea of inserting a leather mouthpiece, but for those who want to keep the mouthpiece dry, we recommend the simple solution of rolling a non-lubricated condom over it before insertion.
A special feature of this hood design is the buckling collar strap with D-ring and locking buckle. The collar adds to the secure look and feel of the hood and also provides points of attachment in front and back for attaching a leash, locks, chains, rope, or for whatever other bondage purposes you might think of. With the addition of a small lock, the hood can be locked onto the wearer so that a key is needed to take it off even if the person's hands are free.
The buckle will work fine without a lock, but having the option of locking it in place will give the hood an added erotic dimension for many users. This hood laces in the back using a leather lace strung through nine pairs of silver cinch rings. Overall, we believe you will find this hood to be of superior quality and value.
Small:
• Forehead Circumference: 22" to 23" (56-58cm)
• Nose Circumference: 21.5" to 24.25" (55-62cm)
• Mouth Circumference: 21" to 22" (53-56cm)
• High Neck Circumference: 15" to 16" (38-41cm)
Medium:
• Forehead Circumference: 23.5" to 25.5" (60-65cm)
• Nose Circumference: 24.25" to 26.5" (62-67cm)
• Mouth Circumference: 22" to 25.5" (56-65cm)
• High Neck Circumference: 15.5" to 18" (39-46cm)
Large:
• Forehead Circumference: 25" to 27" (64-69cm)
• Nose Circumference: 26" to 28" (66-71cm)
• Mouth Circumference: 24.5" to 26" (62-66cm)
• High Neck Circumference: 17.25" to 19" (44-48cm)