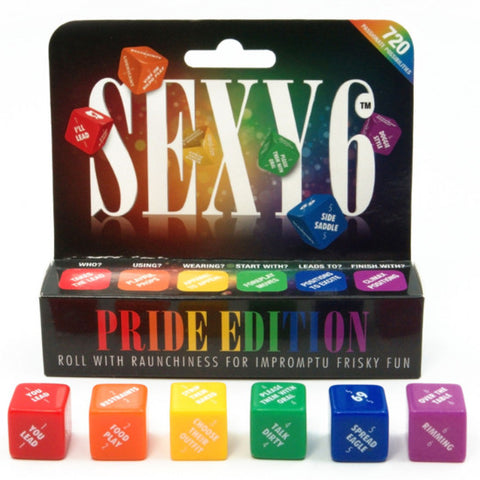 Entrenue
PRIDE Dice Game | Sexy 6
Shake up sex with the fun, easy to use, Sexy 6 Dice!
Feel the excitement and anticipation build as sexual scenarios gradually reveal themselves, exposing unexpected thrills and shared sensations. With 720 possibilities for pleasure, sexy new adventures are guaranteed every time.
Die 1:

 

Who will take the lead and initiate intimacy?
Die 2:

 

What props can be utilized to enhance play?
Die 3:

 

How to dress for the erotic exploit?
Die 4:

 

What foreplay will help set the mood?
Die 5:

 

What position will get the passion rising?
Die 6:

 

Switch to this position when approaching climax!
With the decisions laid bare by the dice, all that remains is to enjoy each other- in the raunchiest way possible!